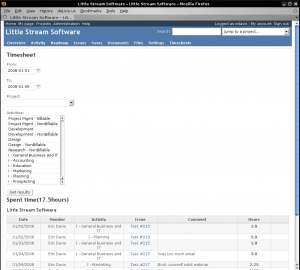 I'm happy to announce I am releasing my first Redmine plugin, Redmine Timesheet. I'm releasing it under the GNU GPL v2
Purpose
This is a plugin to show timelogs across all projects in a Redmine install. I use it for:
How long did I work today? (timelogs for today)
How much of my time is billable work? (timelogs for specific activities)
How much do I need to invoice for a project? (timelogs for a billable activity on a project)
Features
Filtering of timelogs

by Date ranges
by Project
by Activities

"Run Timesheet" permission to restrict feature to specific users
Install
Download the archive file and extract it to your vendor/plugins folder. You can also download directly from my Subversion server using Rails's plungin script

  script/plugin install svn://dev.littlestreamsoftware.com/redmine_timesheet_plugin/trunk


Follow the Redmine plugin installation steps.
Login to your Redmine install as an Administrator.
Enable the "Run Timesheet" permissions for your Roles.
Add the "Timesheet module" to the enabled modules for your project.
The link to the plugin should appear on that project's navigation.
Help
If you need help you can leave a comment here or enter an issue directly into my bug tracker.
Eric