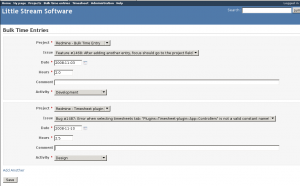 I'm happy to announce that I'm Open Sourcing another Redmine plugin, the Bulk Time Entry plugin. This plugin allows a user to enter multiple time logs from one convenient screen. I created this plugin because needed to enter several time logs at the end of every day and I got tired of going into each project to add my time.
Features
Enter multiple time entries from a single page
Auto fills the issue id based on the selected project
Getting the plugin
A copy of the plugin can be found in the downloads at Little Stream Software and also on GitHub.
Install
Follow the Redmine plugin installation steps on the Redmine wiki
The link to the plugin should appear on the top left of your menu, called "Bulk Time Entries"
Usage
Enter the time entry details
Click "Add Another" or use the accesskey of Alt + A to add another time entry form
Click "Save" to save all the time entries
License
This plugin is licensed under the GNU GPL v2. See COPYRIGHT.txt and GPL.txt for details.
Help
If you need help you can create an issue directly into the bug tracker. If you would like to contribute any changes, you are welcome to fork my code on GitHub
If you are currently working on a Redmine plugin and need help or have an idea for a plugin you would like developed, please contact me. My company, Little Stream Software, specializes in the development of custom Redmine features and Redmine plugins.
Eric