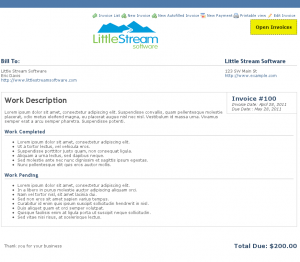 I'm happy to finally release the first public version of my Invoice plugin for ChiliProject. This plugin can be used to create and manage invoices for customers using ChiliProject's time entries. While this is the first public release, I've been using this code at Little Stream Software for all of my invoices since 2008.
Features
Listing of current, old, and late invoice
Create and manage invoices
Automatic invoice creation based on time entries on a project
Invoice details based on issues
Payments to an invoice
Printable view of an invoice
Download
To get a copy of the plugin, you can download it from my ChiliProject or get the source code directly from my GitHub repository
Next version
This version is pretty basic and specific to how I invoice in Little Stream Software, so I'll be changing a few things in the next version to make it more generic. If you have an idea for a feature or want to send me some code, I'd be happy to have you open a new issue in the project tracker.